Essays on culture, values and policy in a changing continent
At his departure on 19 February 1998 as director of the Social and Cultural Planning Office Adriaan van der Staay received a tribute in the form of a collection of essays entitled The European Challenge. Essays on culture, values and policy in a changing continent. The contributors were (in alphabetical order): Jos Becker, Pim den Boer, Wim Couwenberg, Hans van Dijk, Hans Magnus Enzensberger, Jo Groebel, Václac Havel, Cees Klop, György Konrád, Laurens van Krevelen, Ryclef Rienstra, Frans de Ruiter, Willemijn Stokvis, Johan Verweij, Richard von Weizsäcker, Edmund Wellenstein, and Anton Zijderveld. The book was edited by Kees Paling and Vic Veldheer.
The European Challenge was published by VUGA Uitgeverij B.V., Den Haag. ISBN 90-5749-154-0.
Prince Claus wrote the preface, which is reproduced here in full.
PREFACE
Is it really true that Adriaan van der Staay is retiring?
Certainly not from playing a role in the 'intellectual élite' (sorry) of our country. These were my first thoughts when I was asked to write a foreword for a Festschrift on Culture and Europe, to be published on the occasion of Mr. Van der Staay's departure as director of the Social and Cultural Planning Office. I accepted this request with some trepidation, because I realised that there were others who were much better qualified to perform this honourable duty. But it was me they asked, and so I took the plunge and said yes.
The theme of 'Culture and Europe' may not seem very original, but I find it fascinating, and it suits Adriaan van der Staay  perfectly. The two subjects – culture and Europe – are closely intertwined. This may be so, but is there such a thing as European culture? I have my doubts: the region we regard as the origin of what we now call Europe was the cradle of several cultures that have left a permanent mark on our societies. At the same time, we can no longer take this diversity for granted: many people fear that, even if it is not destroyed, it will undergo substantial changes because of current political developments in Europe. For how can we reconcile the desire for an integrated European Union with the aspiration to preserve the diversity of cultures that form the framework and substance of our identity? I personally believe that the legislation issued from Brussels travels through a prism of national cultures, which will break and change the hard core of its leveling impact. In short, while we may doubt the existence of a European culture, we can be sure that pluriform culture will continue to flourish in Europe.
A more important reason for me to write this foreword is the person to be honoured by this Festschrift. I have met Adriaan van der Staay on many occasions and in many capacities, and know him as a truly erudite man of his time, a very original thinker with a wonderful sense of humour, and a person with an astounding, almost encyclopedian factual knowledge. He is a champion and advocate of many noble causes, such as – to name just a few – fundamental human rights and the preservation of our common architectural heritage, wherever it is threatened by destruction. His efforts to protect and preserve Curaçao's historic quarters, his creative work for and with UNESCO, and his contribution to the management of the 'Prince Claus Fund' reflect just a few of his many interests and cultural activities. I am not sure – and I may very well be contradicting the doubts I expressed above – but it is possible that Mr. Van der Staay, whose engagements in the cultural realm transcend national frontiers, is one of our friends with a truly European identity.
Europe stands for unity in diversity. The highest common factor is fortunately still a system of shared norms and values, in which human rights, democracy, freedom, and(social) justice set the tone. It is precisely these principles that guarantee Europe's rich diversity. They ought to be central to any future changes.
I think that our friend Adriaan van der Staay will agree with this. All farewells are sad, but I am sure he is only retiring from his official function as a civil servant. His intellectual and aesthetic talents will make him a highly coveted speaker and writer, serving the causes of this country and the world at large. I wish him well, this charming and likable 'concitoyen'.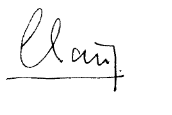 Prince Claus of the Netherlands