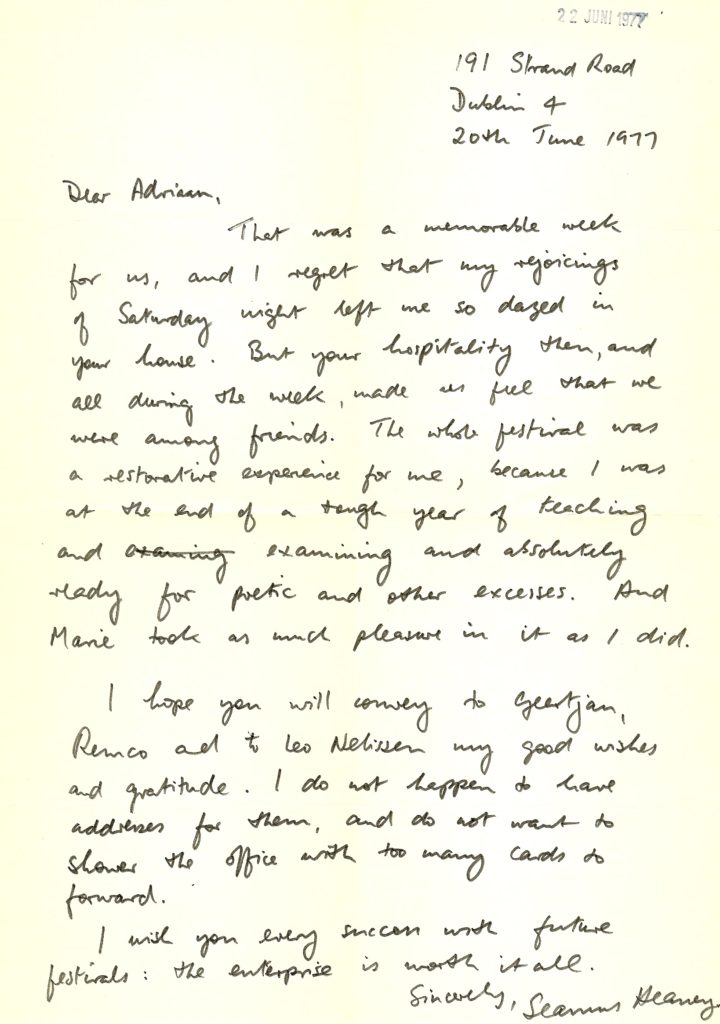 Van bevriende zijde werd mij om opheldering gevraagd over twee gedichten van Heaney. Ik kende Heaney persoonlijk, hij bezocht mij thuis en ik hem in zijn woning in Dublin. Voor de verklaring van zijn twee gedichten is kennis van zijn leven echter niet nodig.
In feite gaat het om twee natuurervaringen. In het ene geval om de ontmoeting met een plant, in het andere met een dier. De plant, die geworteld staat in de grond, beweegt of er onderaards iets in het ongerede is geraakt: als de naald van een weegschaal. Het dier dat in levensgevaar is, kijkt de dichter aan en de dichter versmelt via het oogcontact met het dier en wordt daardoor als gelouterd herboren.
Om deze interpretatie geloof bij te zetten vertaalde ik de twee gedichten zo nauwkeurig mogelijk in het Nederlands.
The Poplar      
Wind shakes the big poplar, quick silvering
The whole tree in a single tree in a single sweep
What bright scale fell and left this needle quivering?
What loaded balances have come to grief.
De populier
De wind schudt de grote populier, kwikzilverend
De hele boom als enkele boom in één beweging
Welke heldere weegschaal dipte en liet de weegnaald trillen
Welke schalen zijn bezweken aan hun lading?
Seamus Heaney
Uit: The Spirit Level, Faber and Faber, London 1996
The Fox
Travelling south at dawn, going full out
Through high stone wall country, the rocks still cold
Rainwater gleaming here and there ahead
I took a turn and met the fox stock-still,
Face-to-face in the middle of the road,
Wildness tore through me as he dipped and wheeled.
In a level running tawny breakaway
O neat head, fabled brush and astonished eye
My blue Volkswagen flared into with morning!
Let rebirth come through water, through desire,
Through crawling backwards across clinic floors:
I have to cross back that startled iris.
De vos
Onderweg naar het Zuiden in de ochtend, met vol gas,
Door een landschap van stenen muren, hoog, de stenen nog koud
Op de weg voor mij her en der blinkend regenwater
Kwam ik een bocht door en ontmoette de vos, hij stond stokstijf
Oog in oog, midden op de weg
Onstuimigheid brak los in mij toen hij wegdook in een draai
Met een egaal glad bruinig ervan doorgaan.
O puur hoofd, beroemde kwast en verbaasd oog
Waarin mijn blauwe Volkswagen scheen in de ochtend!
Laat ons herboren worden door water, door lust,
Door terug te kruipen over brandschone vloeren;
Ik moet terug komen uit dat verraste oog, die iris.
Seamus Heaney